If you are bored of your old diamond ring and want to give it an upgrade, there are a plethora of options available for you. You can add a few elements to your ring to give it an entirely new appearance. Some excellent options available for you to upgrade your old diamond rings are mentioned below:
Upgrade The Size Of Your Diamonds
By opting for a bigger stone, you can add more brilliance and sparkle to your ring. But getting bigger diamonds can be very costly, hence, it might not be an affordable option for everyone. But you can get diamonds with higher carat weights at more affordable rates if you choose lab grown diamonds. These man-made stones can be greatly beneficial for people who want bigger diamonds on a low budget.
Change The Shape Of Center Stone
Another impressive way to give a new look to your ring is by changing the shape of the center diamond. If the ring carries a round diamond, you can upgrade to more unique and stunning options like princess-cut diamonds, cushion-cut diamonds, heart-shaped diamonds, etc. These diamond shapes are more affordable than round diamonds.
Update The Ring Setting
If your ring features a prong setting, then change it to a bezel or channel setting. This can offer a modern and sleek appearance to your ring.
Add Some Accent Stones
You can make your simple ring, like a solitaire, more stunning and sparkly by adding some accent stones. Add one or two halos around the center stone or set some small diamonds on the band of your ring. This can greatly boost the overall shine of your ring.
Add Some Colored Gemstones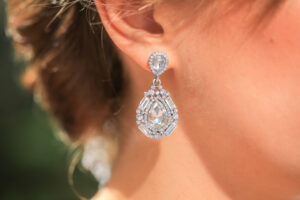 Adding a pop of color is another brilliant way to upgrade your ring. There is a wide range of options when it comes to colored gemstones including diamonds. Diamonds are available in a plethora of colors. But most colored diamonds can be costly unless you are selecting the common yellow or brown diamonds.
But there is a wide range of other colored gemstones available for you that are more affordable than colored diamonds. They include ruby, sapphire, emerald, etc.
Add Another Band
You can make your old diamond ring more stunning by pairing it with another band. Make sure to choose a band that complements the ring so that they can look spectacular together.
You can seek the help of your jeweler to find out the best ways to upgrade your ring based on its unique features.