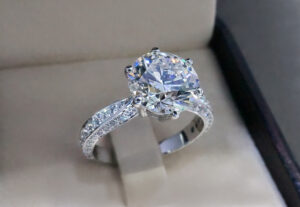 Baguette-cut diamonds are widely used as accent stones in diamond engagement stones. It is also common to see people use baguette-cut stones along with alternative gemstones to make their engagement ring unique. Baguette diamonds have a magnificent appearance because of their symmetry and unique shape and they are a superb option for personalizing your engagement ring. If you are planning to buy baguette-shaped diamonds, this article can be of great help.
In this article, we are explaining baguette-cut diamonds and their features. First, let us look at the history of baguette-cut diamonds.
History Of Baguette-Cut Diamonds
Baguette-cut is a cut with a minimalistic design. The popular usage of this diamond cut traces back to 1912, but the design we currently use is a modified version of the old baguette cut. Since the middle of the 16th century, elongated rectangular cuts, from which the modern baguette cut is derived, have been used in diamond rings and other jewelry. The French word "bague", meaning ring, is where the cut earned its name.
Only in the early 20th century, when the geometric styles of the Art Nouveau and Art Deco movements had an impact on diamond cuts, these cuts were recognized as baguette-cut diamonds.
As we mentioned earlier, baguette-cut diamonds are used as accent stones rather than using them as center stones. You can very commonly see baguette-cut diamonds in three-stone ring settings. But nowadays, some people are even using them as center stones for their engagement rings.
Choosing Baguette-Cut Diamonds
The most important factor to consider when using baguette-cut diamonds as accent stones is the color difference between them and the center stone. The color grades of accent stones and the center stone should match or else it can easily be spotted. It is advised to choose at least one color grade higher when placing a step-cut baguette next to a brilliant-cut center stone. This is because step-cut diamonds are inferior in brilliance when compared to brilliant-cut diamonds. However, you shouldn't either select very high color grades that could completely overwhelm the center diamond.
Watch out for the clarity grades of baguette-cut diamonds. They are cut specially to enhance clarity, so if they have flaws, they can be easily seen.
Polish and symmetry are also important when selecting baguette-cut diamonds. The baguette cut's parallel facets must be uniform in size and shape. There shouldn't be any extra or missing facets and make sure that all facet points meet.