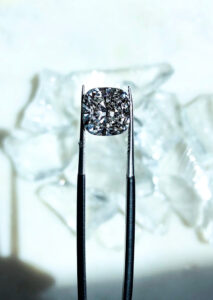 Women in the medical industry who have to work with their hands all the time must always be worried about their jewelry. They have a bad habit of putting their hands in their pockets! They must wear gloves, wash their hands frequently, and work with patients for a long period of time. When buying an engagement ring for them, all of these aspects together make it a little more tough to obtain one that is both their style and appropriate for their profession.
Even if you are preferring a natural diamond or a lab-grown diamond for your engagement ring, you must know that they both can get damaged. That is why experts recommend specific ring styles and diamond cuts for those who work with their hands all day. Keep reading this article to find out some of the best engagement rings that are suitable for nurses.
Low-Set Diamond Engagement Rings
When choosing an engagement ring for a nurse or anyone in the medical field, one of our first recommendations is to go with a low-set diamond ring. Tiffany or knife-edge settings are two popular types that feature a higher setting that places the diamond above the band. This is done to highlight the diamond's brilliance. Lower settings are ideal for ladies working in the medical industry because they are easy to slide beneath gloves and won't catch on anything as they use their hands.
Multi-Row Diamond Rings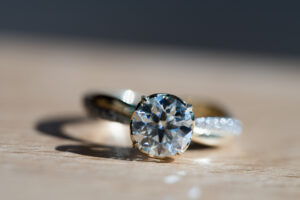 A multi-row diamond ring is yet another popular alternative for nurses or any medical practitioner. This is a far more current and unconventional approach to selecting an engagement ring. However, it may be ideal for ladies in the medical industry who operate with their hands and are unable to wear a diamond with a high setting. Since it's not very common, wearing a two, three, or four-row multi-row diamond ring is a more daring decision. Having so many little diamonds, though, generates an incredible brilliance.
Bezel Set Engagement Rings
A metal ring encircles the diamond and shields the sides from any scratches or any damage to the diamond in bezel set rings. This ring is ideal for anyone who spends her day working with her hands and is concerned about the ring's rough edges or prongs disturbing their work. Apart from the increased layer of security, there are other reasons to consider purchasing a bezel set engagement ring. This design of the ring is also distinctive in that it elongates the center diamond, making it appear bigger on their fingers.