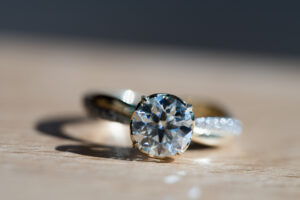 For an individual with a beautiful, timeless aesthetic, a pavé setting is a fantastic option. The additional diamonds' meticulous workmanship gives depth and majesty to the ring. By choosing a pavé setting, you may add some flair to your ring while keeping the focus on the central diamond. If you prefer pavé for your engagement ring, this is a great option.
If you wish to learn more about the pavé setting, continue reading.
What Exactly Is A Pavé Setting?
The base of the ring is studded with tiny lab-grown diamonds in a pavé setting. Metal prongs or beads hold these jewels in place, giving the illusion of a continuous line of little diamonds. The pavé setting provides a touch of glitz to an engagement ring while also showcasing the center stone's beauty. Pavé diamond settings come in a variety of styles, from trendy to vintage.
Different Types Of Pavé Setting
Micro Pavé
Micro pavé settings make use of incredibly small diamonds weighing less than 0.01 carats per stone. More than 100 of these stones may be put close together in a micro pavé setting to provide the illusion of a continuous band of diamonds. Since micro pavé settings include many more diamonds, they frequently have a lovely gleam that extends down the ring's shank.
French Pavé
Each lab-grown diamond in a French pavé setting is put on the inside of a tiny v-shaped groove carved into the ring, as opposed to a traditional pavé setting. This cut emphasizes the sides of each diamond, resulting in less exposed metal and the impression of a continuous line of diamonds. The French pavé setting, like other pavé settings, generates a stunning glitter with less visible metal between each little diamond.
Petite Pavé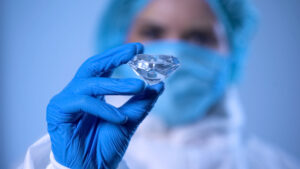 Petite pavé settings look the same as standard pavé settings. A petite pavé setting, on the other hand, employs smaller prongs that enable the pavé diamonds to become more prominent rather than the massive prongs used in a traditional pavé setting. The tiny prongs that keep each lab-grown diamond in position highlight the pavé diamonds, giving a stunning shine that extends throughout the ring's shank.
Why Should You Choose Pavé Setting For Lab-Grown Diamonds?
The pavé setting draws a lot of attention to the center stone and makes you stand out from the rest. Furthermore, the setting emphasizes the brilliance of the central diamond. Furthermore, the setting adds sparkle to a less brilliant diamond.