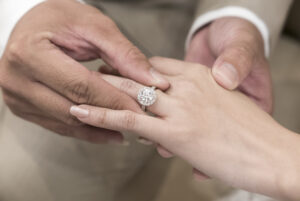 There are many exquisite ring settings that you can choose for your engagement ring like the pave setting, channel setting, etc. Each one of the settings has its own beauty and qualities and becomes part of differet engagement rings.
The engagement ring is one of the most important symbols that show the depth and love in your relationship. So the choice is up to you to select the most suitable ring setting for your engagement ring.
 In your research for the perfect diamond ring setting, you may have come across the term cluster ring setting. Wondering what a cluster ring setting is? In this article, we will explain everything you want to know about a cluster setting diamond ring.
Cluster Engagement Ring Setting
In a cluster setting, many small diamonds are arranged together, which gives an impression of a bigger diamond. The setting can be done using different-sized stones or equal-sized stones. The most common setting is a bigger center diamond and small diamonds around it. All the diamonds in this setting together can form geometric shapes like squares or other shapes like a starburst or a flower.
You can choose your favorite metal for the making of your ring. The most common choices are yellow gold, white gold, and rose gold. Keep in mind that white gold or platinum can make your diamond look whiter whereas metals like yellow gold can provide a slight yellowish tint to the diamond.
Is Cluster Setting A Good Choice?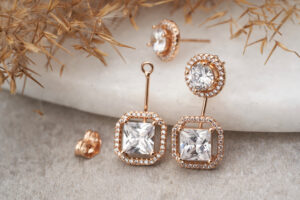 Every setting has its own merits and demerits. Cluster setting can easily catch the attention of people as the ring setting often provides a vintage feel and the small stones offer extra brilliance. The cluster ring setting is extremely customizable and if you are a fan of a unique style, you can definitely go for it.
You should know that the cost of a diamond increases exponentially with carat size. In this setting, several small carat diamonds are used. So the cost of the diamond can be very less when compared to a ring with a single diamond of a larger carat size. If you are using lab-grown diamonds, you can further reduce the cost without compromising on quality.
You have to maintain a cluster setting ring properly or else the small diamonds can come loose. Also, more time and effort are required to clean the diamond ring.